Seasonal Holiday Drink Recipes That Will Get You in the Spirit (Pun Intended!)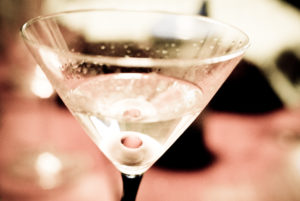 The cold front is rolling in. The scarves are coming out from the back of the closet. The snowmen are getting dressed. The scent of cinnamon and evergreen trees are perfuming the air. Yes my friend, it is the holiday season!
I don't know how you feel about it, but this time of year brings me so much unmatched joy compared to the rest of the year. Every season has its own unique beauties, but do they all make you feel cozy and cuddly and like sharing the love with strangers?
However, winter can have its gloom-and-doom moments that drag us down–those short days and early sunsets, and storms that seem to last weeks. To help keep you in the joyful spirit during those times, we've come up with a list of easy holiday drink recipes that bring their own spirits to lift yours!
(These holiday drink recipes are all made with alcohol, so for adults only! And, as always, we recommend organic, non-GMO ingredients.)
APPLE CIDER
For the quick version of this seasonal cup of joy, buy your favorite apple cider, heat up in a saucepan, and stir in your-sized pour of whiskey.
If you have the time and want to make it more of an event, pour a gallon of apple cider, 1 1/2 cups whiskey, and a 1/2 cup caramel into a slow cooker and leave it on low for 2-3 hours. Garnish with cinnamon sticks and/or an apple peel spiral if you're looking for good presentation!
IRISH COFFEE
Simple and sweet, an Irish Coffee is made by adding your favorite Irish Whiskey (like Jameson) to your favorite cup of coffee–they're the best of friends. Top with whip cream, maybe garnish with some chocolate shavings or cocoa powder, and you have a cup that will keep you toasty on those dark and dreary days. In my opinion, it's one of the best holiday drink recipes around!
HOT TODDY
A Hot Toddy is good year-round, particularly when you're feeling under the weather and need to soothe a cough or clear some congestion. But for the winter season, it has the bonus of making you feel all warm and fuzzy as the snow falls outside your window.
Ingredients
1/2 cup water
1.5 ounce bourbon
1 tbsp honey
2 tsp lemon juice
Cinnamon stick and lemon slice for garnish (if you like!)
Directions
Bring the water to a simmer in a saucepan or tea pot. In your mug of choice, combine the bourbon, honey, and lemon juice; pour the hot water in and stir to thoroughly combine. Get cozy, and drink!
PEPPERMINT CANDY MARTINI
This recipe comes courtesy of my wonderful mom, who has tended bar for years. There's a little more effort that comes with this drink, but the taste and presentation make it worth the effort!
Ingredients
1.5 ounces (shot) Vanilla Vodka
1.5 ounce (shot) White Creme de Cacao
.5 ounce Creme de Menthe (clear) or Peppermint Schnapps
1 tablespoon Whipped Cream
2 small candy cane, crushed (1 small candy cane crushed in the drink, one as decoration on rim)
Colored raw sugar around rim (red or white to match the theme). Learn how to make your own colored sugar here!
1 slice of lime
Directions
Add all the ingredients (except for the sugar) to a shaker with a cup of ice, and shake it good for 10 seconds or so. Rub the rim of the martini glass with a lime and dip into colored sugar on a shallow dish. Pour the contents from the shaker into the glass, hang a small candy cane, and enjoy!
THE GRINCH
Simple and easy, this drink is only two ingredients: Midori and sweet and sour. Really, this is just a Midori Sour, but put it into a martini glass with a cherry, and you've got yourself a lime green Grinch with a tiny heart waiting to grow!
Ingredients
1.5 ounces of Midori
1/2 cup sweet and sour
Cherries, to taste
Directions
Shake the Midori and sweet and sour in a shaker with ice for 10 seconds and pour into a martini glass. Either drop a cherry or place on a toothpick, and you've got a festive holiday villain! If you want some extra pizzazz, run a lime around the rim and coat with red raw sugar.
You could also pour all of this over ice into a bucket glass and skip the shaking if you'd prefer.
CRANBERRY MIMOSAS
These tasty brunch-friendly drinks look the part for the season and will fill your heart with bubbles that lift your spirit!
Pour your preferred amount of champagne and cranberry juice into a champagne flute, and garnish with a toothpick of cranberries and rosemary if you want the full effect!
EGGNOG
Eggnog is one of those drinks where there is only love or hate, there is no in-between. This is also one of those drinks that taste better when made from scratch. However, sometimes we don't want to temper eggs or watch our drinks with a candy thermometer (if you do, check out this recipe).
So if you have a store-bought eggnog you love, spice it up with some bourbon or rum and top it with a dollop of whip cream and a shake of cinnamon.
Here is a round-up of products I recommend for your shopping convenience!
You can click the buttons below to go back to the Winter Seasonal articles, or you can venture back to our other Seasonal articles, DIY Seasonal recipes or the Seasonal supplies and products we love!
Disclaimer: All information contained herein is intended for educational purposes only. It is not provided to diagnose, prevent, or treat any disease, illness, or injured condition for any human or animal, and Mother Nature's Truths, as well as the author(s), contributor(s), publishers, and owners accept no responsibility for such use. Anyone suffering from any disease, illness, or injury, or who has an animal suffering from such, should consult with their physician or veterinarian. The statements herein have not been evaluated by the Food and Drug Administration.