Cooking
If you're like us, you love cooking! And part of the fun of cooking is finding recipes for meals that are absolutely scrumptious and are healthy too!
To help with that, we've included our favorite recipes, cookbooks, and equipment. We hope you enjoy these as much as we do!
Cooking with Mother Nature's Truths
Recipes
Here's where you can find all our favorite recipes! We're adding new ones all the time, so be sure to check back often (or subscribe to our newsletter to get new content delivered right to your inbox)!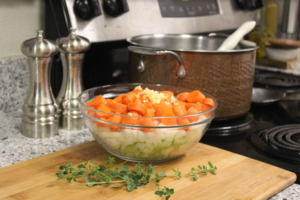 Products
We have great product recommendations to save you time and effort! We've included our favorite cookbooks, equipment, spices, and more, so check it out!
Cheers to you and your next amazing meal!
Disclaimer: All information contained herein is intended for educational purposes only. It is not provided to diagnose, prevent, or treat any disease, illness, or injured condition for any human or animal, and Mother Nature's Truths, as well as the author(s), contributor(s), publishers, and owners accept no responsibility for such use. Anyone suffering from any disease, illness, or injury, or who has an animal suffering from such, should consult with their physician or veterinarian. The statements herein have not been evaluated by the Food and Drug Administration.