The Best Kitty Litter For You and Your Feline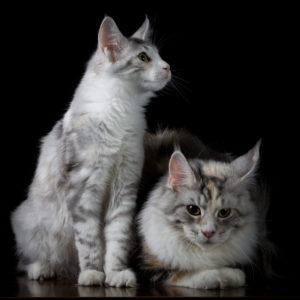 Dealing with kitty litter is, in my opinion, the biggest downside to having a cat. The dust, the smell, the mess…it's really just unpleasant. And, if it's that unpleasant for a human, imagine how much worse it is for the cat!
Because of how much shorter they are than us, they're much closer to the litter box and dust. They have to go in and around it more frequently (every time they have to use the bathroom!). The litter often sticks to their paws, and to get rid of it, they have to lick it off. Ugh. It's gross.
So, to make this unpleasantness a bit more pleasant, we want to share some thoughts with you about alternatives to conventional kitty litter.
Get Rid of the Dust
If you have just one cat, you might want to try the Tidy Cats Breeze System. It's what I use with my cat, Gryphon. Instead of clumping, there are pellets, which means there's no dust. Poop stays in the litter box with the pellets, and the pee falls down through little slats in the box onto an absorbent pad beneath. You scoop the poop as necessary, and change out the pad once per week.
It controls odors really well, in my opinion, and I didn't have any trouble transitioning my cat to it. The only downside is that sometimes, if there's a little bit of poop in his box that I haven't scooped yet, he might poop just outside the litter box, but that's easily dealt with by putting a mat down. I've never had an issue with him peeing outside the box. And, for just one cat, this system is more affordable (and less gross) than buying conventional litter.
Go All Natural
Another solution is to buy one of the natural cat litters out there (World's Best Cat Litter, sWheat Scoop, Feline Pine, BLUE Naturally Fresh, and Yesterday's News are all options to try—each of them is made from a different product and has different pros and cons).
If you like the idea of using a natural litter but find it doesn't control the odor as effectively as you'd like, you can make a natural odor control to add to the litter. There are lots of recipes on the internet for this: I adapted this one from Breedsy.
Add Natural Odor Control
So, to make a natural odor control, get a mason jar, 1 cup of baking soda, and 15 drops of Young Living's Lavender essential oil. Combine the baking soda and the essential oils in the mason jar, screw the cap on, and shake the whole mixture! Let it sit overnight to absorb the fragrance.
Every time you scoop the litter, sprinkle some of the baking soda mixture on the top after you add the new litter. When your cat uses the box, they'll mix the baking soda mixture in.
There you have it! Some ideas for how to turn dealing with the litter box (for you and your cat) from an unpleasant task to something that really isn't bad at all.
Here is a round-up of products mentioned in the article for your shopping convenience!
You can click the buttons below to go back to the Pets ETC articles, or you can venture back to our other Pet articles, DIY Pet recipes or the Pet supplies and products we love!
Disclaimer: All information contained herein is intended for educational purposes only. It is not provided to diagnose, prevent, or treat any disease, illness, or injured condition for any human or animal, and Mother Nature's Truths, as well as the author(s), contributor(s), publishers, and owners accept no responsibility for such use. Anyone suffering from any disease, illness, or injury, or who has an animal suffering from such, should consult with their physician or veterinarian. The statements herein have not been evaluated by the Food and Drug Administration.