5 Surprising Baking Ingredients You Can Make With What You Have On Hand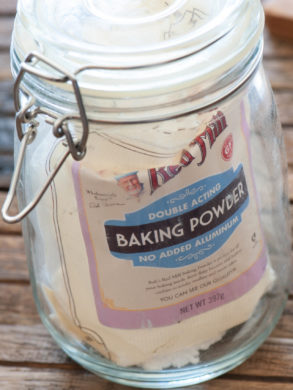 You're hanging out with your little ones watching them play, when all of a sudden, your sugar tooth strikes! Mmm… we should make cookies. You get your kids excited to bake–they love to help measure and stir–and you reach into your cupboards to gather the ingredients when, lo and behold, you are out of brown sugar. The chorus of sad tones commences.
Has this ever happened to you? More than likely. And how sad are you just thinking about it? How much do you now want to bake cookies now? Well, the good news is that there are DIY baking ingredients you can make using ingredients you likely already have! You have to love knowing these kinds of things…
(Just a quick side note: we know that baking fun treats like cookies usually isn't associated with nutrition. But if a craving for something sweet strikes, it's much better to bake something from scratch than buy processed foods that contain who-knows-what chemicals and other toxins!)
BUTTER AND BUTTERMILK
Yes! Butter (and buttermilk) is a delicious, creamy staple that make everything taste better. Best of all, butter and buttermilk are baking ingredients you can make from what you have. In fact, butter is one of my favorite things to make with kids! They can see the process, take part in it, and eat it on fresh baked bread after their hard work is done.
All you need to have on hand is 1 quart of heavy cream or cream from raw milk. THAT'S IT! (Oh, and salt, if you want, although it's not necessary.) Mind blowing, isn't it? I love it so much.
If you want to give the kids some part in it, and help get out their energies while doing it, all you need is a mason jar and the will-power to shake it until it turns into a beautiful glob. This usually takes 10-15 minutes of shaking. Then take it out of the jar, strain it with a cheesecloth or fine-mesh strainer and marvel at what a little elbow-grease can do! You can also use this fun butter churner and have your own butter in about 3 minutes–all it takes is some shaking!
If you're like me and love your standing mixer or hand mixer, pour the cream into the bowl and beat it at medium-high speed until the butter separates from the liquid (buttermilk!) and strain it. Keep the liquid! That is the buttermilk you want for pancakes, cupcakes, all the -cakes. That's another $5 saved by making your own! Add salt now to the butter if you like and put it in your fridge.
If you want to get real crazy with it, after the churn is a perfect time to add your own flare to the butter. Honey, herbs, whatever flavors you need for what you have going on that day. And just like that, more baking ingredients you can make yourself!
POWDERED SUGAR
Did you make delicious buttermilk waffles and realize you're out of powdered sugar? Worry not, my friend! You know that granulated sugar? Pull that back out with a blender and a little bit of cornstarch or arrowroot powder, and your breakfast topping problem is solved.
Ingredients
1 cup white sugar (small batches turn out better)
1-2 tablespoons cornstarch or arrowroot powder (not necessary, but helps to keep the powdered sugar from clumping)
All you need to do is blend at a high speed until it reaches the consistency you want. That's it! Sugar may scratch a plastic blender container, so do be aware of this as you blend–but hey, that's what blenders are for!
BROWN SUGAR
Did you make a bowl of oatmeal and realize you're out of brown sugar? No sweat! Light and dark brown sugars are easy baking ingredients you can make yourself!
Light Brown Sugar
Ingredients
1 cup white sugar
1 tablespoon molasses
Combine in a bowl with a fork until completely mixed.
Dark Brown Sugar
Ingredients
1 cup white sugar
2 tablespoons molasses
Combine in a bowl with a fork until completely mixed.
Do you have light brown sugar but the recipe calls for dark? Easy! Use 1 cup light brown sugar and add one more tablespoon molasses, then stir to combine.
BAKING POWDER
One of the main reasons I like to make my own baking powder is because many of the baking powders to buy in stores have aluminum (sodium aluminum sulfate) in them. I'm not trying to eat that or give it to my family. So when I can't find the one I like, I'll use this recipe:
Ingredients
1 tablespoon baking soda
2 tablespoons cream of tartar
1 tablespoon cornstarch/arrowroot powder (optional)
Mix together, and there you go!
This recipe is single-acting, so add it in towards the end and get your product in the oven ASAP. Because it keeps for about a month, baking powder is one of those baking ingredients you can make as you need it (or in small batches monthly).
CAKE FLOUR
In the mood to spontaneously bake a cake but cake flour isn't something you generally keep on hand? You're in luck: Cake flour is another baking ingredient you can make. Here you go…
Ingredients
1 cup All-purpose (AP) flour
2 tablespoon cornstarch (you can use arrowroot powder, but it may shorten the cooking time.)
1. Measure out 1 cup of AP flour
2. Take out 2 tbsp and put back in the flour container
3. Add 2 tbsp of cornstarch into the flour
4. Sift 5 times. (This makes sure it's combined.)
It is amazing the kinds of things we can make on our own, the things that we can make from what we already have. It's like recycling, but with pantry staples!
When we actually know how things are made, we can have so much more control over what goes into our food. Feel the power!
Here is a round-up of products mentioned in the article for your shopping convenience!
You can click the button below to go back to the Nutrition articles, or you can venture over to our DIY Nutrition recipes and the Nutrition supplies and products we love!
Disclaimer: All information contained herein is intended for educational purposes only. It is not provided to diagnose, prevent, or treat any disease, illness, or injured condition for any human or animal, and Mother Nature's Truths, as well as the author(s), contributor(s), publishers, and owners accept no responsibility for such use. Anyone suffering from any disease, illness, or injury, or who has an animal suffering from such, should consult with their physician or veterinarian. The statements herein have not been evaluated by the Food and Drug Administration.