Natural Skin Care Companies That Will Leave Your Skin Delighted and Your Body Toxin-Free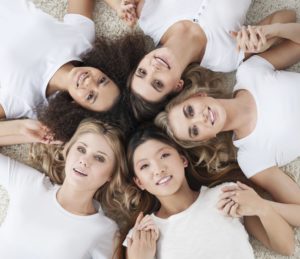 Do you suffer from sensitive skin? Do you have adverse reactions to the products you use? Maybe it's less about you, and more about the products you're using!
Throughout my research to find companies who use organic, sustainably sourced ingredients, I've found that almost every single founder began her company from the need to solve her sensitive skin problem. And as I've gone through the bad ingredients, the harm they cause, and the negative reactions we have because of them, it has become more apparent that perhaps it is not us with sensitive skin, but the typical products with ingredients that don't belong on our skin.
If you tried looking for natural, organic topical products twenty years ago you would have had a difficult time finding them. Most of these companies began in the early 2000s because of that, and, thank goodness, have only grown and become easier to find! So we have compiled a list of clean skin and hair companies you can trust with your skin feeling the way it's meant to.
NURTURE MY BODY makes body, face, hair, and baby products using organic ingredients you can pronounce and can be found in nature. The founder was an aesthetician who became ill from the harmful chemicals in the products she would use. She put her knowledge and love to good use and created an organic line we feel good using. You will find body washes, lotions, shaving cream, shampoos, even bug spray and sunscreen here! Made in USA.
DESERT ESSENCE is a Certified B Corp that carries organic, non-GMO, cruelty-free products for our skin, hair, body, even oral hygiene. They find these high-quality ingredients all over the world and put them together in the USA. Desert Essence makes products like a tea tree oil face wash, a face and skin moisturizer with aloe vera, a jojoba oil and almond facial scrub , and a shampoo and conditioner for color treated hair ! You can also find these products in stores, like Whole Foods, across the country.
CARINA ORGANICS has ingredients that are either natural or certified organic, in addition to being biodegradable, all-of-the-bad-things-free, cruelty free and hypoallergenic. They carry shampoos, conditioners, styling products, and face and body care products. They seem to really understand how our skin works and how to best work with it using the right, organic ingredients.
BRONNER'S has been around since 1948 (but soap making began in 1858), and even then was in the care of a third-generation master soap maker. Dr. Bronner's practices fair trade and fair prices, environmental sustainability through various techniques, regenerative organic agriculture, "bottle to bottle" recycling and post-consumer packaging. The pure castile soap can be used in a variety of DIY ways (I use it in my laundry detergent and both hand and dish soap. They carry balms, cremes, lotions, toothpastes, sanitizers and house cleaner. You can find Dr. Bronner's products in chain stores around the country.
TRUE BOTANICALS products all have the MADE SAFE® distinction, certifying that they are made without 5,000+ toxic chemicals that are harmful to both humans and the earth. They find sustainable and/or certified-organic ingredients to use in their wide array of products that have you cared for from your head to your toes! True Botanicals has also sorted products based on the need of the customer–e.g. dryness, breakouts, rosacea. True Botanicals recently released a new product, Calm Radiance Oil, that I am currently trying and am excited to share the results with you! It says it helps with red spots and inflammation, fine lines and wrinkles, and hydration and tone in your face. Yes, please!
CAPTAIN BLANKENSHIP is a Certified B Corp that carries products for your hair, skin, and body as a whole. Recyclable and reusable glass packaging is one of the ways they are making an environmental impact, and only cruelty-free. They are transparent in their ingredient list, which consists of certified organically-grown ingredients, with the EWG rating shown next to every single one. You can find their products in various stores across the country, and their "Sailor" line is available at Target.
SOAPWALLA uses only sustainably grown and organic, food-grade plant materials for their face and body products. Everything they produce is made with love, hand-mixed in small batches to ensure quality in every bottle. Several of their products are also MADE SAFE® certified.
The founder of OSMIA was an Emergency Room doctor who took her love of chemistry and helping people to a whole different place–making soaps and lotions. Because she is a medically-trained doctor who graduated from Georgetown, she uses this knowledge to educate you on her site, offering information about various skin issues. So helpful! Osmia has a Tox Screen of ingredients they will NEVER use alongside the scientific research to show the harm they cause. You can find their products in a handful of states and Canada.
MOUNTAIN ROSE HERBS is certified OCTO/USDA organic, non-GMO, Fair Trade, and Zero Waste Facility. With access to herbal educators and classes, Mountain Rose Herbs also offers shampoos, soaps, bath salts, scrubs, lotions, and creams (in addition to their dried herbs, carrier oils and essential oils for your DIY needs). A great one-stop-shop!
ANCESTRAL ORGANICS offers 100% non-toxic, entirely natural and organic ingredients. Focusing primarily on skin issues of the face, you can find cleaners, toners, moisturizers, and complete sets that work towards healing. Knowing that the issues on the surface of the skin are a reflection of what's happening inside our bodies, they also provide a four-week meal plan to help your body cleanse with a $50 purchase.
We hope that in doing the research and scrutinizing for you, we save you time and stress. Rest assured, we'll keep this list updated with the most helpful, healthy products made by the best natural skin care companies!
For money-saving opportunities with these companies, check out our Body and Hair Products Page to see what's currently on sale!
Tools To Check Safety of Ingredients
Tools To Find Healthy Products
Here is a round-up of natural skin care companies mentioned in the article for your shopping convenience!
You can click the button below to go back to the Body and Hair Care articles, or you can venture over to our DIY B&H recipes and the B&H supplies and products we love by clicking the buttons below!
Disclaimer: All information contained herein is intended for educational purposes only. It is not provided to diagnose, prevent, or treat any disease, illness, or injured condition for any human or animal, and Mother Nature's Truths, as well as the author(s), contributor(s), publishers, and owners accept no responsibility for such use. Anyone suffering from any disease, illness, or injury, or who has an animal suffering from such, should consult with their physician or veterinarian. The statements herein have not been evaluated by the Food and Drug Administration.