An Easy 5-Minute DIY "Chapstick" You'll Love When Dryness Strikes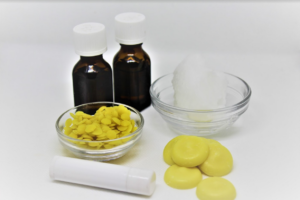 I don't know if you've read lip balm labels recently, but when my husband was trying to find one, he could only find ones with obscenely long words that included numbers and several syllables.
Even the brand "Chapstick" has 16 ingredients in their cherry flavor stick, including "fragrance". (If you haven't heard about the dangers of fragrance, check this out.) I don't know about you, but 16 ingredients for the purpose of moisturizing my lips is about 10 too many for me.
FUN FACT: Chapstick is actually a brand of lip balm, but we use the term "chapstick" for any lip balm. Other brands we do this with are "Jacuzzi" to describe hot tubs and "Kleenex" for the general term tissue.
The wonderful news is that you can make your own kind of organic DIY Chapstick in less than five minutes and for pennies, compared to upwards of $4 for one tube!
INGREDIENTS
Makes 12 lip balm tubes
DIRECTIONS
Melt the coconut oil, shea or cocoa butter, and beeswax in a microwave-safe bowl.
Once completely melted, add the essential oil and stir to combine.
Pour into lip balm containers. (I used an eye dropper and have had the most difficult time cleaning it out; I may just throw it away to be honest. I would suggest a small funnel that can be cleaned with a small bottle brush.)
Leave the containers to harden, and you can use it immediately.
REASONS FOR THE INGREDIENTS
Here is a round-up of products mentioned in the article for your shopping convenience!
You can click the button below to go back to the Body and Hair Care Articles, or you can venture over to our DIY B&H recipes and the B&H supplies and products we love by clicking the buttons below!
Disclaimer: All information contained herein is intended for educational purposes only. It is not provided to diagnose, prevent, or treat any disease, illness, or injured condition for any human or animal, and Mother Nature's Truths, as well as the author(s), contributor(s), publishers, and owners accept no responsibility for such use. Anyone suffering from any disease, illness, or injury, or who has an animal suffering from such, should consult with their physician or veterinarian. The statements herein have not been evaluated by the Food and Drug Administration.