Clean Cosmetic Companies Your Face Will Be Grateful You Found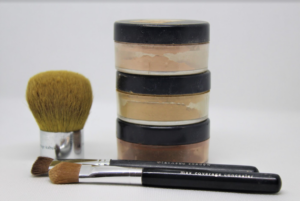 Our skin is truly remarkable. It offers us protection, helps our bodies to get rid of toxins, synthesizes vitamin D, it is even capable of absorbing substances like nitrogen and oxygen! In fact, our skin absorbs up to 60% of what is put on it.
If our skin is is able to absorb helpful nutrients, it stands to reason that it can absorb not-so-helpful things too, right? Though how much our skin soaks up varies from person to person, we do know for certain that substances on the skin make it inside our bodies.
In extreme circumstances, people who work in industries that involve toxic chemicals have become sick and died from said chemicals through "dermal absorption". Most of us aren't working with toxic chemicals like formaldehyde or asbestos. But we are exposed to some chemicals on the daily through our makeup, body care products, laundry detergent. (Click here for a safe, effective, easy-to-make laundry detergent!), and even our bath water (thanks to the people who think chlorine is the only way to sterilize water).
Just to offer some perspective…
Did you know … that the cosmetic products and ingredients do not need FDA approval to be sold? And, the FDA does not have the authority to take something off the market if it causes adverse side effects. Instead of recalling products, they send strongly worded letters suggesting the company take the product in question off the shelves themselves. And they don't even do that much until enough bad things have happened that they decide to act–we are actively guinea pigs.
Did you know … that Canada and Europe have banned ingredients from being used in their products that the US still allows? The European Union has banned over 1,400 chemicals found in cosmetics. The FDA has only banned 30. The U.S. is behind 40 other nations in cosmetic ingredient safety.
Did you know … that women put up to 515 chemicals on their bodies every day, not including laundry detergent or soaps?
I don't know how this information makes you feel. It makes me feel cheated, lied to, disgusted, grossed-out, and itching to throw things out and start fresh (and clean)! So here is a list of clean cosmetic companies that you can feel good about using that strive to care for the earth, too.
Clean Cosmetic Companies
How cosmetic companies can get away with using whatever synthetic, harmful, untested ingredients they want is unacceptable and, quite frankly, repulsive. But the MARVELOUS news is there are more and more clean cosmetic companies being created (mostly by women, frustrated moms and wives) with the united goal of harmless, natural, and impressive products that keep Mother Nature unharmed in the process!
Tools To Check Safety of Ingredients
The National Institute of Health
Extra Resources
Here is a round-up of companies mentioned in the article for your shopping convenience!
You can click the button below to go back to the Body and Hair Care articles, or you can venture over to our DIY B&H recipes and the B&H supplies and products we love by clicking the buttons below!
Disclaimer: All information contained herein is intended for educational purposes only. It is not provided to diagnose, prevent, or treat any disease, illness, or injured condition for any human or animal, and Mother Nature's Truths, as well as the author(s), contributor(s), publishers, and owners accept no responsibility for such use. Anyone suffering from any disease, illness, or injury, or who has an animal suffering from such, should consult with their physician or veterinarian. The statements herein have not been evaluated by the Food and Drug Administration.