The Best Oil for Your Car and the Earth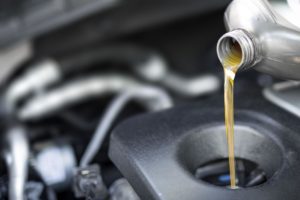 Despite the number of cars in the world being a significant contributor to greenhouse gases, many of us don't know how to make our vehicle more eco-friendly (apart from buying a whole new, expensive electric car).
Some of you may not have given a second thought to the kind of oil that the mechanics put into your car every 3,000 miles, and why would you? For others, you may have been searching for a more eco-friendly oil option and haven't come up with the answer you were looking for.
Well, fear not, friends. We're here for all of you (and Earth, we're here for you too).
Since 1971, AMSOIL has offered an eco-friendly oil that lasts 25,000 miles, or one year. Can you imagine? Not having to change your oil for 25,000 miles?! Think about how much time, money, and oil you'd save on not bringing your car in every three months! Their eco-friendly oil has prevented millions of gallons of waste oil from needing to be both created and disposed of. This particular brand of oil has also decreased air pollution and increased cars' ability to stretch the gasoline farther! So it's good for you, nature, and your car? Deal!
The great thing about AMSOIL is that they don't just stop caring about the environment with the products they make. They also incorporate sustainability practices in their daily work place, and even in how they ship their products to us! Their plastic is from post-consumer resins; cardboard comes from companies under the Sustainable Forest Initiative (SFI); they ship their products efficiently to reduce emissions and greenhouse gases; they recycle anything and everything that comes out of their offices; even their buildings are energy efficient!
There are two ways you can start using AMSOIL today:
You can order directly from a dealer here. Once it's delivered to you, you can change your oil yourself or take it to the shop you love! Just be sure to ask your automotive technician if they will install customer-provided oil.
Or, you can find a location (either a store or a shop) that carries AMSOIL or will put yours in for you. Click here to search for AMSOIL stores/shops (the service centers that will install the oil you bring have a stamp next to their information).
Something as simple as changing your car's motor oil can have significant impact for you, your car, and the world. Fortunately, there is a great company that we can rely on to help us make that change!
Here is a round-up of product(s) mentioned in the article for your shopping convenience!
You can click the button below to go back to the Eco-Friendly articles, or you can venture over to our DIY Eco-Friendly recipes and the Eco-Friendly supplies and products we love by clicking the buttons below!
Disclaimer: All information contained herein is intended for educational purposes only. It is not provided to diagnose, prevent, or treat any disease, illness, or injured condition for any human or animal, and Mother Nature's Truths, as well as the author(s), contributor(s), publishers, and owners accept no responsibility for such use. Anyone suffering from any disease, illness, or injury, or who has an animal suffering from such, should consult with their physician or veterinarian. The statements herein have not been evaluated by the Food and Drug Administration.