The Carpet Cleaner You Need to Get Rid of the Spots You Don't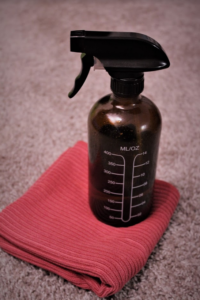 We all have those accidents on carpet that lead to spots that never go away. You know the ones: food, wine…all the good things in life. But the risk of an accidental stain shouldn't keep us on edge while we enjoy those tasty (and, let's face it, sometimes necessary) things!
I came across this recipe when I was looking for a natural carpet cleaner for my cat's carpet stains. To my sweet, gloriously happy surprise, this cleaner also took out a red wine stain from a glass I knocked over with my foot and urine smell from a potty-training toddler. (Yes, I am clumsy. Yet another essential reason I needed to find a chemical-free carpet cleaner.)
DIY CARPET CLEANER
Ingredients
Directions
Pour all of the ingredients into a spray bottle.
Gently shake the bottle to combine ingredients.
Use immediately.
Note: Higher percentages of hydrogen peroxide can bleach materials. Even with the lower percentage, test on a small area before use to ensure it won't do anything more than clean your stains.
Hydrogen peroxide is an all-purpose disinfectant that can be used in various ways around the house. It is an oxidizer and can, therefore, whiten so many things, including grout, stained tiles, and even those armpit stains on shirts! It also kills mold and mildew more effectively than bleach, without the harmful fumes. This carpet cleaner has my loyalty and, if you haven't found an affordable, safe one you like, I hope you'll give it a try! By the way, this cleaner is amazing for couch and mattress stains as well!
(If you have a natural spot cleaner that you use and stand by, please tell us what it is! We would love to test it and share it with others to spread more knowledge.)
Here is a round-up of products mentioned in the article for your shopping convenience!
You can click the button below to go back to the Cleaning articles, or you can venture over to our DIY Cleaning recipes and the Cleaning supplies and products we love by clicking the buttons below!
Disclaimer: All information contained herein is intended for educational purposes only. It is not provided to diagnose, prevent, or treat any disease, illness, or injured condition for any human or animal, and Mother Nature's Truths, as well as the author(s), contributor(s), publishers, and owners accept no responsibility for such use. Anyone suffering from any disease, illness, or injury, or who has an animal suffering from such, should consult with their physician or veterinarian. The statements herein have not been evaluated by the Food and Drug Administration.